Gray skies no handicap for TSF's Golf Tournament
The Scholarship Foundation of Wakefield, Inc. (TSF) recently held its 37th Annual Golf Tournament at Bear Hill Golf Club in Stoneham.  Despite gray skies and rainy and wet conditions, an intrepid group of golfers were undeterred and enjoyed the day on the links and supporting TSF.
The golfers were provided the ground rules for the scramble format by Bear Hill Pro Toby Ahern.  Following the tournament, the participants enjoyed a buffet dinner, fundraising raffle, and silent auction with a variety of prizes including restaurant gift certificates, Bruins tickets, lottery tickets, gift baskets, and more. 
Trophies and cash prizes were awarded to the First, Second, and Third Place teams by TSF President Kathy Scanlon and Vice President T.J. White. 
Players from the 1st Place team at TSF's recent 37th Annual Golf Tournament, being congratulated by TSF Vice President T.J. White (on left), are Howie Melanson, Paul Carangelo, and Matt Yardumian.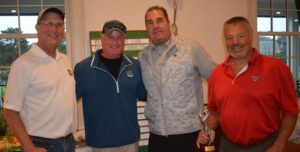 The 2nd Place team at the TSF golf tournament held at Bear Hill Golf Club included Mike Cappadona, Garrett Mancini, and Rich Mullaney.  They are joined by Kathy Scanlon, President of TSF (third from left).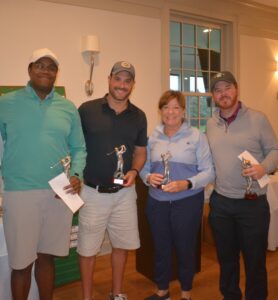 Three teams finishing with a score of 65, meant the third-place trophy was decided by a tiebreaker.  Dan Blake, Perry Verges, Ed Koehler, and John Koehler earned third-place bragging rights.  They are joined by TSF President Kathy Scanlon (third from left).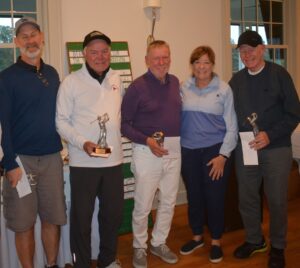 Individual awards were given to the top golfers, including Closest to the Line to Bill Carney  (center) who is joined by T.J. White and Kathy Scanlon of TSF.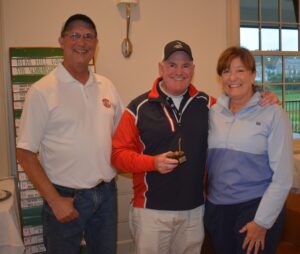 Four golfers earned Closest to the Pin awards.  Awarded this distinction were (from left)  Howie Melanson, Paul McGowan, Glenn Strauss, and Pat O'Keefe.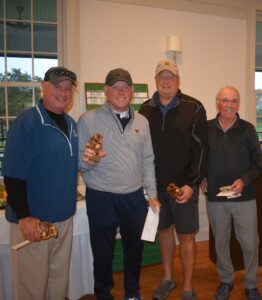 Kayla Hourihan was recognized as the winner of the Women's Longest Drive.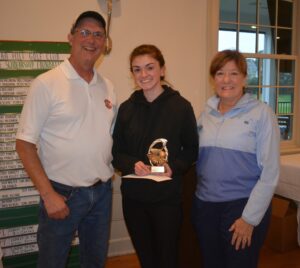 Longest Drive winner Perry Verge (center) is congratulated by  T.J. White and Kathy Scanlon of TSF at the 37th Annual Golf Tournament to benefit The Scholarship Foundation of Wakefield.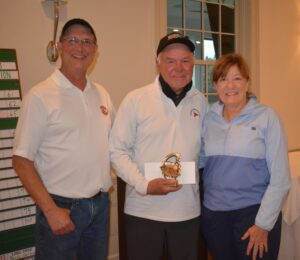 TSF is grateful to three event sponsors: the Wakefield Daily Item, Middlesex Gases, and SVB Private.  In addition, the Daily Item supplied stylish trophies for the top team, and special thanks to Sun 'n Air Golf in Danvers for the donation of golf balls.

The following merchants and TSF board members generously donated to the raffle and silent auction:  Billy's Roast Beef, Floramo's Restaurant, Dino's Brick Oven Pizzeria, Tonno's Restaurant, Bunratty Tavern, The Charles Restaurant, Tequila's Mexican Cantina, Hart's Hardware, Greater Pizza Plus, T-Stop/Rod Faulker, Sun 'n Air Golf,  Jo-Anne Bourque, Kelley Chapman, Walter Dolan, Lisa Erban, Katie Fallon, Linda McManama,  Jack O'Leary, Jay Pinette, the Scanlon Family, Lucy Skeldon, Cathy Wensley, and T.J. White

TSF is thankful for the support of the following individuals and businesses that sponsored a golf hole, including Bill's Lock & the Blois Family; Hartshorne & Curley Insurance; Jasper J. Lawson, Ph.D. & Associates, John F. Foley, Jr. Attorney at Law; Matt's Oil Burner Service; John J. McCarthy, Jr. CPA; McDonald Funeral Home;  Mel & Sons Oil Sales, Inc.; The Savings Bank; The Skulley Family; Vito's Tailor Shop; Wakefield Co-operative Bank, Wakefield Investments, Inc., and  Gayle and Rob Wettach.