Annual June Meeting – Recognizing Student Directors and Community Leaders
President Jennifer Walter called the Annual Breakfast Meeting to order at 8:10.
President Walter welcomed several TSF Directors and many of our current and graduating TSF Student Directors to this annual event. She thanked the Student Directors for their service to TSF during the past school year and expressed special appreciation for their enthusiastic participation during the Annual Phonathon.
TSF of Wakefield, Inc. presented Chris Callanan of North Shore Pool and Spa with its Community Service Award.
Presentation of the Community Service Award
President Walter introduced Mr. Christopher Callanan of North Shore Pool and Spa of Wakefield, who for many years has provided freshly popped popcorn on site for the hundreds of participants, spectators, and volunteers during each annual Trivia Team Challenge event.  President Walter thanked Mr. Callanan for his generous and continuing support of TSF.  President Walter presented him with a lasting memento of our thanks.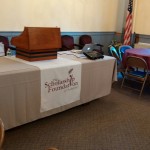 President Jennifer Walter wished everyone a pleasant summer and encouraged the Directors and guests to enjoy the delicious light breakfast arranged by TSF Administrator Roberta DiNitto.