An accumulating fund has been established through The Scholarship Foundation of Wakefield (TSF) in memory of Stephen de Garavilla, a longtime soccer coach in town.  Established by his family, the Coach Stephen de Garavilla Memorial Scholarship honors Stephen's passion for soccer and his decades-long commitment to coaching.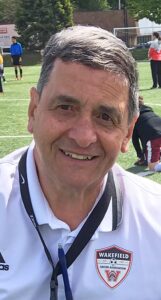 Stephen de Garavilla was a lifelong resident of Wakefield and a coach in the Wakefield Soccer Association (WSA) where he taught, motivated, and inspired soccer players for 35 years.  He began his coaching career in 1987 in the WSA program.  He served as a coach, volunteer, and board member with WSA as well as the Middlesex and Essex County Youth Soccer leagues and the Massachusetts Youth Soccer Association (MYSA).
Coach de Garavilla took great pride in developing players both on and off the field and he enjoyed following the playing careers of his former athletes, some of whom went on to become coaches too.  A lifelong student of the game, he was committed to developing his expertise and mentoring other coaches.  His 35-year soccer coaching career is one of his greatest legacies.
In recognition of his dedication, Coach de Garavilla was honored as the 2022 Boys Recreation Soccer Coach of the Year at the state, regional and national levels receiving this distinction from the Massachusetts Youth Soccer Association, United States Youth Soccer for the East Region, and United States Youth Soccer (USYS).
 A 1970 graduate of Wakefield Memorial High School, Stephen received his B.S. from Boston College and his dental degree from Boston University School of Dental Medicine.  He served in the United States Navy as a dental officer and was stationed at Parris Island in Beaufort, South Carolina.  Following his military service, he opened his dental practice on Main Street in Melrose where he spent 38 years serving generations of families until his retirement in 2019.  
The Coach Stephen de Garavilla Memorial Scholarship Fund is an accumulating fund, which will become permanent when it reaches a minimum balance of $10,000.  Upon permanency, the following June an award in the name of the Coach Stephen de Garavilla Memorial Scholarship Fund will be made to a local student.  
Additional contributions to the Coach Stephen de Garavilla Memorial Scholarship Fund are encouraged to help the fund grow to a permanent level.  Donations can be made to TSF of Wakefield, P.O. Box 321, Wakefield, MA 01880.  Online donations can be made by visiting www.TSFofWakefield.org/donate.  Please include the name of the fund with your donation, either on the check memo line or by adding a message/fund name with your online donation.  
Since 1960 The Scholarship Foundation of Wakefield has provided financial assistance to Wakefield residents in their full-time pursuit of higher education.  Beyond its commitment to students, TSF proudly commemorates community members, families, WMHS classes, businesses, and organizations through 612 active funds.  TSF is honored to add Coach de Garavilla to this list.