Annual June Meeting – Recognizing Student Directors and Community Leaders
President Catherine Donovan called the Annual Breakfast Meeting to order at 8:15.
President Donovan welcomed several TSF Directors and many of our current and graduating TSF Student Directors to this annual event. She thanked the Student Directors for their service to TSF during the past school year and expressed special appreciation for their enthusiastic participation during the Annual Phonathon.
Presentation of the Community Recognition Award
President Donovan introduced WMGLD – Wakefield Municipal Gas and Light Department, which for many years has provided support to the TSF organization and specifically our Phonathon.  President Donovan thanked General Manager Peter Dion, Assistant Manager Eugene Sullivan and their staff for their generosity and for their continuing support of TSF.  President Donovan presented them with a lasting memento of our thanks.
The Wakefield Municipal Gas & Light Department is the recipient of The Scholarship Foundation of Wakefield's 2017 Annual Community Recognition Award.
The WMGLD was established in 1894 and is one of 2,000 public power utilities in the United States. That means that the WMGLD is owned by its customers, not shareholders like privately owned utilities.
As a community-owned utility, the WMGLD is a real part of the community. Not only does the WMGLD help TSF by helping us get the word out, they support our schools by conducting an annual safety program for Galvin Middle School students, and sponsor an energy conservation essay contest for Galvin and St. Joseph School fifth grade since 2008.
They are active in the community, too, by participating in, and supporting, community events like Festival Italia, Common Ground, Hartshorne House Breakfast, and the Holiday Stroll, among many others.
The Gas and Light Department's distribution of our financial appeal brochure and return mailer to WMGLD households has become an integral part of our annual Phonathon event's success.  We would be unable to reach so many Wakefield residents without their assistance.
They also hang the banners across Main Street for TSF and for other community organizations like us, and they hang the holiday lights in the downtown area for all to enjoy.
I'd like to note that the Wakefield Municipal Gas & Light Department was also selected for this award in 1986.  They have been a long time  friend and supporter of TSF of Wakefield.
Peter and Gene, we sincerely thank you and your staff for all your efforts on our behalf.  And we are happy to present you with this plaque in appreciation.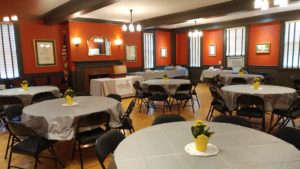 President Catherine Donovan wished everyone a pleasant summer and encouraged the Directors and guests to enjoy the delicious light breakfast arranged by TSF Administrator Roberta DiNitto.